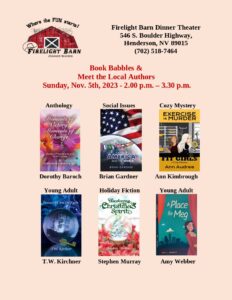 DATE: Sunday, Nov 5th, 2023
TIME: 2:00 p.m. – 3:30 p.m.
LOCATION: Firelight Barn Dinner Theater, Henderson
I would like to thank Toni Jackson and the Wranglers for organizing and hosting this mini-multi author signing at the Firelight Barn.
The afternoon event will host authors giving ten-minute presentations on their published books followed by a signing. Light refreshments will be served.
Apart from myself, participating authors are –Dorothy Baroch (Anthology), Brian Gardner (Social Issues), Ann  Kimbraugh (Cozy Mystery) T.W. Kirchner, (Young Adult) and Amy Webber (Young Adult)
I will be presenting my holiday fiction, Discovering the Christmas Spirit, but will have my other novels on hand for sale and signing.
Hope you can join us for what promises to be a fun and entertaining way to spend a Sunday afternoon.