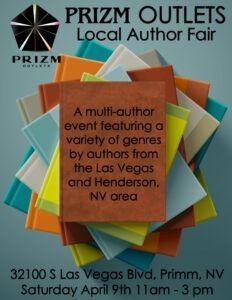 DATE: Saturday , April 9th, 2022
TIME: 11.00 a.m. – 3.00 p.m.
LOCATION: Prizm Outlet Mall, Primm, Nevada
This is an extremely exciting multi-author book signing event. There will be over two dozen authors from the Las Vegas Valley , and whose books will cover a wide array of genres from children's books to biographies to historical fiction to murder mysteries.
It is first-of-its-kind event at the Prizm Outlet Mall.
Naturally,  I will be selling and signing copies of all five of my novels – Discovering the Christmas Spirit, the award-winning, The Chapel of Eternal Love- Wedding Stories from Las Vegas, the critically-acclaimed sequel, Return to the Chapel of Eternal Love – Marriage Stories from Las Vegas, my cozy murder mystery and the Readers Favorite 5-Star rated, Murder Aboard the Queen Elizabeth II, and the Readers Favorite 5-Star rated crime fiction novel , Discreetly Yours.
I hope you can join us…. buy your lottery tickets at the same time, and purchase some wonderful merchandise at bargain prices at the stores there.
Thanks to the General Manager, Elizabeth Drumm, for all her support and for facilitating this event . It is greatly appreciated.