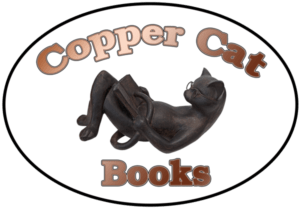 DATE: Friday, Nov. 24th, 2023
TIME: 12.00 p.m. – 3.00 p.m.
LOCATION: Copper Cat Books
I am thrilled to be holding the book launch for my latest novel, the light-hearted paranormal, Yours in Spirit at Copper Cat Books in Henderson.
My gratitude to the store owners, Wendy and Anthony Marcisofsky, for being willing to host it.
Black Friday is the perfect day for introducing the launch of this light-hearted and fun paranormal novel.
I do hope you will be able to join us and purchase some of the many treasures and hard to find gifts at Copper Cat Books.
Even though the primary focus of the event is to sell copies of my latest book, I will have on hand copies of my other five novels for sale:  Discovering the Christmas Spirit, The Chapel of Eternal Love – Wedding Stories from Las Vegas, Return to the Chapel of Eternal Love – Marriage Stories from Las Vegas, Murder Aboard the Queen Elizabeth II and Discreetly Yours.
Cheese and wine will be served. I'd love to see you there and be part of this fun event