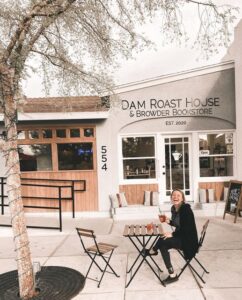 DATE: Sunday, May 22nd, 2022
TIME: 11.00 a.m. – 2.00 p.m.
LOCATION: Dam Roast House & Browder Book Store
It is a continual thrill to return to this venue for a book signing, where I will be signing copies of all five of my novels.
I always have such a wonderful time there. The owners, Travis, Amber, Misty and their staff are truly super……. The lattes and munchies are out of this world.
I will be joined at this signing event by local author, Ruth Devlin, who will be signing copies of her two children's books, Ants: Across, Around and Through and Monsters on the Bus: A Halloween Song.
Hope you can stop by at this beautiful spot in historic downtown Boulder City, and say hi, enjoy some light refreshments, browse the book store and chat with Ruth and myself.