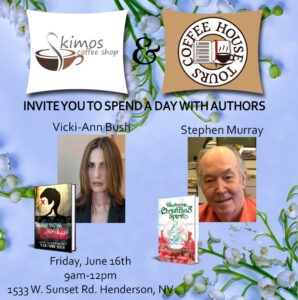 DATE: Friday , June 16th, 2023
TIME: 9.00 a.m. – 12.00 p.m.
LOCATION: Skimos Coffee Shop
I am so looking forward to a return visit to Skimo's Coffee House for a book signing – my first in over a year.
I would like to thank the Coffee House Tours for putting this series of signings together.
Although  I will be selling and signing copies of Discovering the Christmas Spirit, I will also be selling and signing copies of the award-winning The Chapel of Eternal Love and the critically-acclaimed sequel, Return to the Chapel of Eternal Love, my cozy murder mystery, Murder Aboard the Queen Elizabeth II, and my crime fiction, Discreetly Yours.
I will be sharing the signing with the very talented, Vicki-Ann Bush. Vicki-Ann writes in a variety of genres. Between us , we will be selling and signing books which will suit most tastes in literature.
Hope you can stop by and join us for some coffee and some books from either Vicki-Ann or myself – or both.